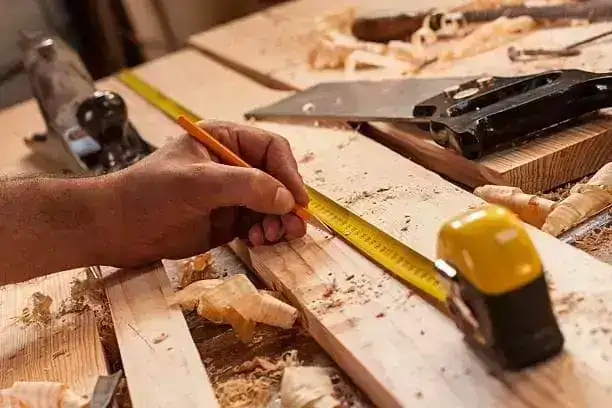 You don't need to look anywhere,  if you need trustworthy and dependable carpentry services in Al Barsha. We are here to fulfill all your carpentry need and   assure you that you will be fully satisfied. We are proud to say that we are the top professionals in carpentry services in Al Barsha Dubai.
You can compare the role of a carpenter to that of a doctor in fixing and repairing things. Both professions involve repairing and fixing things. High-quality carpentry skills are not everyone's cup of tea. Carpenter are also skilled in creating new item when required by their profession. That's why I recommend that you should  look for the finest carpentry services in Al Barsha Dubai. If you have any carpentry work, we provide the best carpentry services.
Becoming a skilled carpenter requires years of experience and expertise. Carpenters in Al Barsha, Dubai, possess the necessary skills to handle all things of woodworking, including furniture making and repairs. They are expert in their craft and can fulfill any task related to woodwork with precision and quality craftsmanship.
 At some point, everyone wants the best carpentry services available in their area for their household needs. This is because carpenter are skill in maintenance and basic handyman craft and excel in providing professional carpentry services for various task. This ability distinguishes professionals, regardless of whether the task is simple or tough.
Assume you are looking for skilled carpentry services in Al Barsha. In that scenario, we guarantee you will receive the greatest carpenters who follow and maintain the highest quality standards. If you have any queries feel free to contact us at any time. Our contact number is +71528955713.
Trusted carpentry services in Al Barsha, Dubai
With their professional knowledge and skills, carpenters can fulfill almost any customer request. Whether it's the construction of basic door frames or the artistry of crafting detailed cabinet designs, carpenters in Dubai provide a wide range of services to their valued customers.
Building patios and decks:
Constructing a patio or deck offers many benefits, including enhancing the value of your property and establishing an outdoor living area for long-term enjoyment. By dedicating some time and energy to proper planning and execution, you can share your preferred design with us, and we will bring it to live according to your vision. Your role is to make the right choice, and we will provide you with the best carpentry services according to you.
Framing doors:
Framing a door involves constructing the frame to accommodate a door within a wall opening. This essential process is usually undertake before installing a good door, although it can also serve as a mean to repair or replace an existing door frame. Our team of experts is dedicate to providing professional door framing and repair services in your local area at the most affordable price. 
Crown molding to cabinets and walls:
The crown model is a type of decorative trim that adds a touch of elegance to the junction between walls and ceilings. It also enhances the appearance of cabinets and other architectural elements. It is typically craft from the wood; crown molding is also fashioned from alternative material like plastic or metal. If you are considering installing crown molding on your cabinets and walls, we are here to offer the best carpentry services in your area.
Cabinet repairs:
Cabinet repairs involve addressing and resolving issues with damaged and non-functioning cabinets. This may include repairing cosmetic damages like scratches and dents and fixing functional problems like loose hinges, drawers, and hardware. Professionals like us best handle cabinet repairs, as we offer the best carpentry services in Al Barsha. We have the expertise and skills to effectively address any issues with your cabinets and provide reliable repairs.
Room or furniture remodeling:
 Room or furniture remodeling involves altering the arrangement, design, or overall look of a room or piece of furniture. This process can be carried out for various purpose, including enhancing the area's functionality, modernizing the style, or adding value to the property.
Kitchen, bathroom, and bedroom renovation:
Technically speaking, a renovation and a remodel are distinct in their definitions. A remodel involves altering the form or structure of something, such as adding a new shower to an existing bathroom. On the other hand, a renovation primarily focuses on restoring something old or worn to a good repair, like fixing up a creaky floor.
Door cutting:
The right tools and techniques are vital regardless of the specific door-cutting task. This ensures accurate and precise cuts, resulting in a smooth and refined finish for the door. We can repair any problem with your doors and install a new one in a relatively short period and with excellent results.
Installing mounts:
A mounting is like a frame where equipment, such as an air-handling unit (AHU), is securely attach. When the AHU is bolted onto the frame, it is consider to install the unit onto the mounting. We install mounts because we have professional carpentry services in Al Barsha, Dubai.
Installing ready-made furniture and other objects:
It involves carefully assembling and arranging furniture in a new home or office or meticulously installing artwork, decorations, and various objects within a space; the ultimate objective remains consistent: crafting a practical and visually captivating environment that enhances the functionality and aesthetic appeal.
Custom-made furniture:
Custom-made furniture means skilled craftsmen create pieces based on the customer's wants. You can choose things like color, material, finish, and design. Even if you only get to decide on one or two of these aspects, it still counts as "custom-made" furniture.
While carpenters commonly perform these tasks, the specialization of professional carpenters typically revolves around a specific area of expertise, and we offer a range of professional services near you, including fixing or repairing loose and squeaky staircases, building extra storage space in the area, lock repair or replacement, polishing and painting furniture, and many more. This specialization allows them to develop advanced skills and knowledge in their chosen field.
Why go for professional carpentry services in Dubai?
Professional carpentry work carries an aura and quality. Trained professionals handle every task with ease Thanks to their expertise and training, they bring effectiveness and efficiency to their work. Equipped with the right tools, equipment, experience, and skills, professional carpenters fulfill their specific job roles daily.
Carpenter Dubai is widely recognized as the famous platform for office carpentry works. Our team of highly skilled professionals sets us apart from the competition, ensuring unparalleled reliability in delivering best craftsmanship. We take so much pride in our work and have earned praise from over 100+ satisfied customers who have experienced the excellence of our services.
Indeed, carpenters who specialize in mechanical services understand the importance of using the appropriate tools and equipment for various tasks involved in thinning, framing, drilling, hammering, nailing, and woodworking. Adhering to established protocols and standards ensures that the work is done efficiently and effectively.
Precise measurements and calculations are crucial when dealing with complex carpentry services. By obtaining accurate data, carpenters can ensure that their work aligns with the intended design and meets the client's expectations.
Technical knowledge is essential for carpenters to excel in their craft. Understanding different construction works, prime materials, and quality trademarks allows carpenters to make informed decisions and deliver high-quality results.
Regarding exterior carpentry service in Dubai, our carpentry services are consider top-notch because we excel in both exterior and interior need. Regardless of whether it is exterior or interior carpentry, we provide excellent services. Furthermore, skilled carpenters can understand your requirements with just a hint and can provide you with the best possible solutions. They are trained professional who can even offer creative ideas because of their expertise in the field.
Frequently Asked Questions (FAQs)
How To Contact Carpentry Services in Al Barsha
We are the top carpentry company in Dubai and provide convenient doorstep service. Our carpenters are available round the clock to help you at your location. They come equipped with professional and portable tools. You can easily reach us by calling or sending a WhatsApp message to +971 52 895 5713.
Can We Book an Online Carpentry service? 
Yes, whenever you want, you can contact us to book our services by calling our contact number, +971 52 895 5713, at any time. You can also book via WhatsApp message on the same number. If you prefer, you can also message us and book through our email, [email protected]. Additionally, you can visit our website and directly book by clicking on the available booking options.
How do I choose a carpenter?
You can visit our website to explore detailed information about our services and select the carpentry services that best match your requirements. Our extensive experience and dedication to providing high-quality professional carpentry services enable us to cater to a wide range of needs and preferences. No matter your specific need, we are pleased to assist you by offer the finest quality custom carpentry service in Dubai.
What is the cost of a carpenter in Al Barsha?
The cost of our service depend on the work you require, but I can guarantee that you will be satisfy with our carpentry service as they will be of high quality. Moreover, they will be the most affordable and cost-effective carpentry services available.