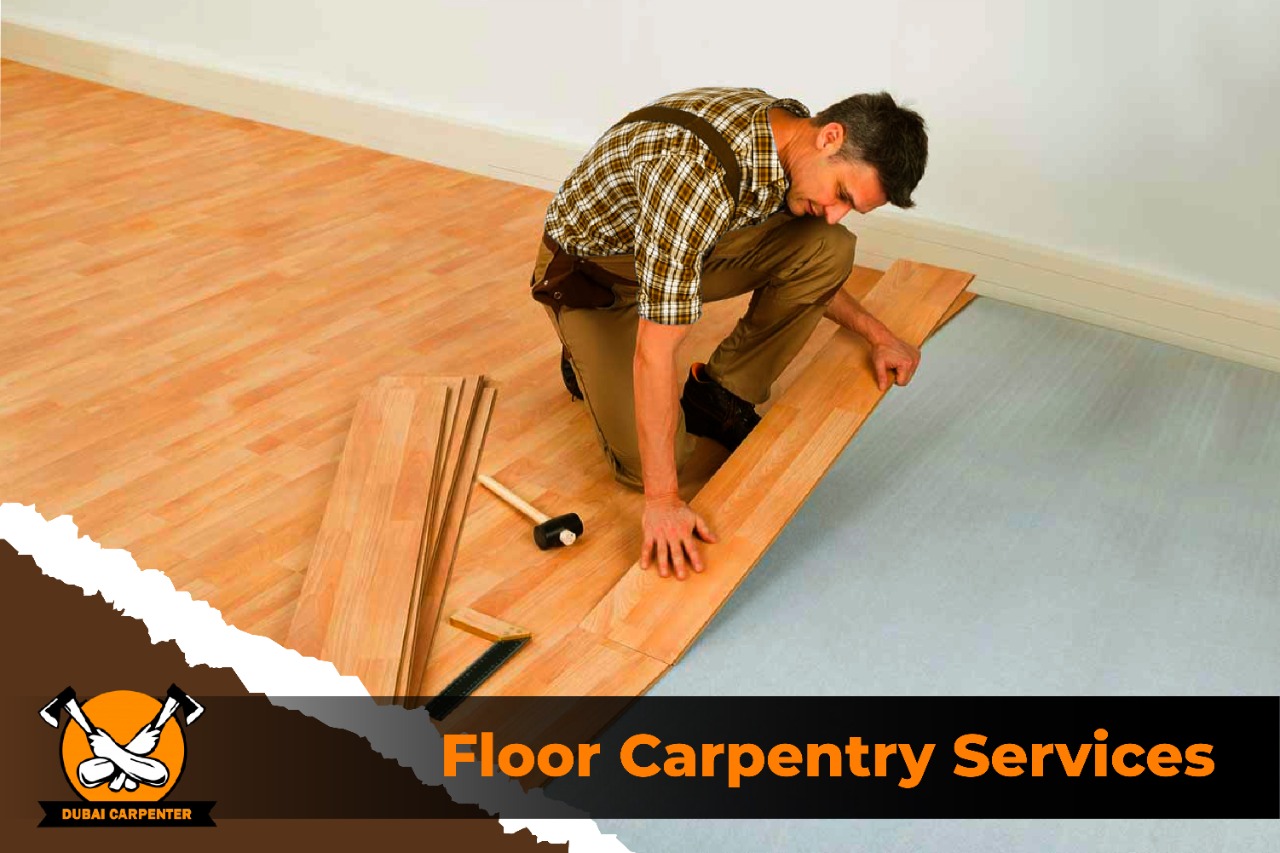 A wooden floor adds an aesthetic value to the entire property. While renovating or fixing wooden floor flaws, floor carpenter Dubai services are unskippable. Only professional floor carpentry services can change your complete flooring plan.
Are you looking to repair the wooden floor, polish it, and much more? Carpenter Dubai brings you the privilege to install high-end wooden floors, fix them, or revamp them. Discarding those wooden floor fixtures is not an option when they are still sturdy and usable.
Our efficient carpenter team can handle any floor carpentry project with precision. Be it repair or maintenance, regularly used wooden floors require both services. Floor Carpenter Dubai professionals will keep your floor top-notch.
Reach our specialist team if your home or office's wooden floor needs a renovation or fixing. Avail custom floor carpentry services for both residential and commercial use from Carpenter Dubai.
What are our Best Floor Carpentry Services in Dubai?
Woodwork flooring enhances the beauty of any property. Its enchanting attraction is difficult to escape. Additionally, wooden flooring requires to be done perfectly so that your investment doesn't go wasted. Therefore, choosing the best floor carpentry services in Dubai is better.
Carpenter Dubai is a leading name in carpentry work. We deal with countless carpentry services and fix any wooden fixture.
Additionally, we take care of comfort while installing hardwood or engineered flooring. It's our duty to make your floors anti-slippery. Let's have a look at our vast array of competent floor carpentry services:
Flooring Installation
Installing wooden flooring is state-of-art. It decides how magnificent your floors can look. Additionally, the right installation technique ensures how durable it will be. Therefore, it's very important to take care of wooden flooring installation. Our Carpenter Dubai team has been installing a variety of wooden flooring for years.
Generally, the following wooden floorings are trending in Dubai, and our carpenters can easily install them for you:
Faux wooden flooring
Engineered wooden flooring
Wooden plank flooring
Polishing of Wooden Flooring
People prefer wooden flooring because of its hygienic nature, easy-to-clean factor, and high-end look. On the other hand, wooden flooring is also low-maintenance. You have to pay attention to the maintenance of your wooden flooring if it has been years since being installed.
Wooden flooring can lose its shine and turn into dull planks of wood. In addition, it can lose its charm because the design has started fading. Trust our impeccable carpentry craftsmanship to revive your wooden flooring without a doubt.
Our qualified and experienced Floor Carpenter Dubai professionals will polish your wooden floor with stain-sealant solutions. This will curb the necessity of consistent maintenance. In addition, our best floor carpentry services in Dubai offer tailored design patterns and styles to add a magic touch to your interior.
Wooden Flooring Repair
Wooden floors are comparatively more long-lasting and sturdy. However, the daily wear and tear along with thousands of footsteps can trigger issues with the wooden flooring. The wooden plank might get loose. On the other hand, a termite infestation can make the wooden floor fragile enough and accident-prone.
Don't take any chances with the safety of your wooden flooring. Hire our best floor carpentry services in Dubai to repair the wooden flooring. Our floor Carpenter Dubai experts offer premium repair services to both residential and commercial properties' flooring.
Our latest tools and technologies make sure that your floor remains free of wobbling and creaking. Additionally, our carpentry services and damp proofing add more years to the longevity of your stunning wooden floors.
Why Should You Choose Our Floor Carpenter Dubai Professionals?
Carpenter Dubai is a recognised carpentry organisation known for its specialisation in residential and commercial carpentry solutions. Our in-house carpenters strive for the best floor carpentry services in Dubai resulting in durable and eye-catching flooring.
Here's why we are the best bet for floor Carpenter Dubai services:
Our carpenter team houses only veteran, vetted, and certified carpenters.
We equip our carpenters with the best and latest carpentry tools and technologies.
You can expect the fastest and most reliable floor carpentry.
Our carpentry professionals are experienced in installing, repairing, and maintaining all types of wooden floors.
You can book our best floor carpentry services in Dubai at your convenience.
Hiring a floor Carpenter Dubai is easier than you think.
Call us for a Prompt Floor Carpenter Dubai Service
The best floor carpentry services in Dubai are just a call away. Contact our experts and share your flooring worries with us. We will reach you soon. Connect our customer service executives to know more about the best deals in services and packages.