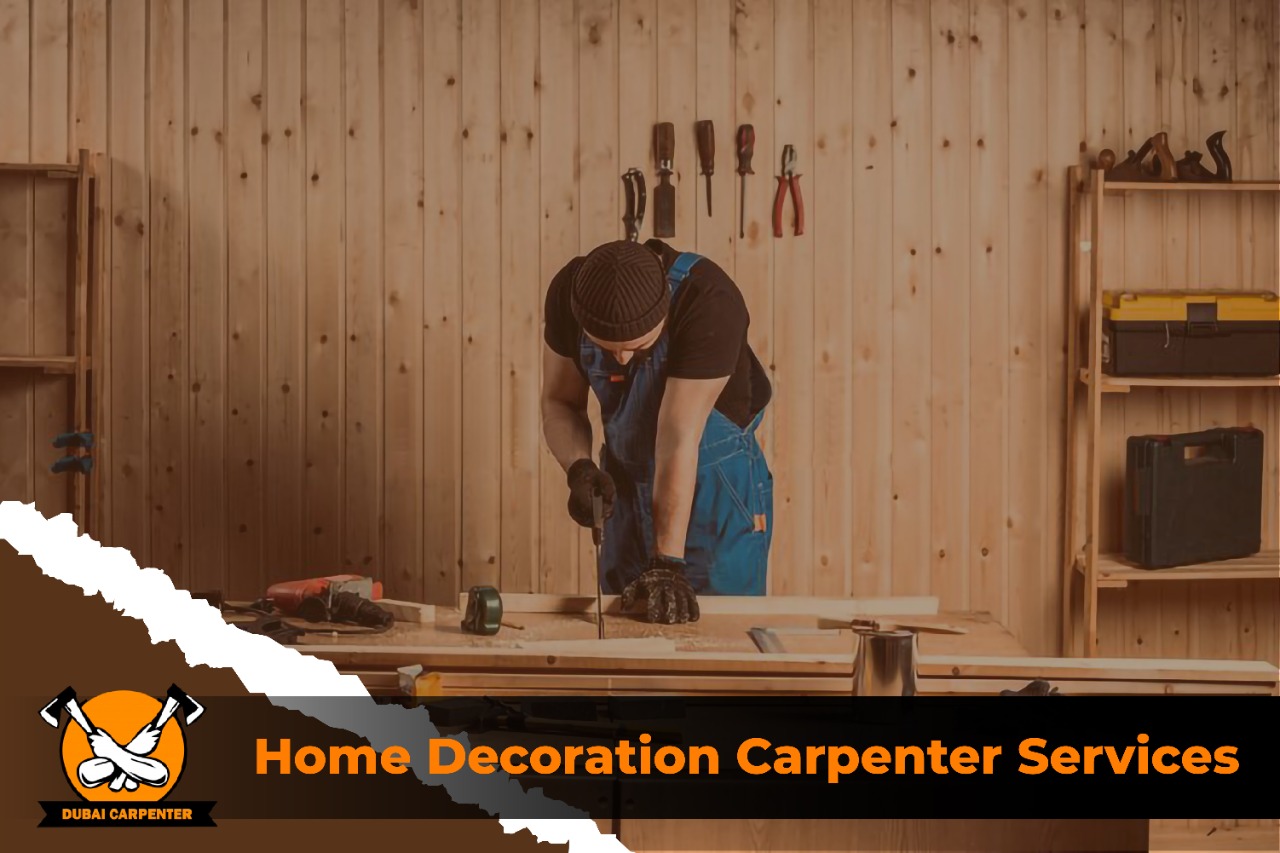 Wooden furniture is an essential requirement for home interior decors. Stylish chairs or cabinets add value to the new house. However, the wooden structures can get damaged over time. This is where you will need a professional carpenter. Fix the broken door hinges or chair handles by connecting with Carpenter Dubai. Being a leading home decoration carpenter Dubai company, we strive for quality.
Carpentry works are essential to maintain wooden furniture. Due to overuse, you might find scratches on the surface or loose door knobs. Thus, schedule an appointment with our custom carpenter Dubai expert in such instances. We will repair or redesign these home decoration items within minutes.
Moreover, our professionals have sheer knowledge in installing new chair joints. Thus, book our exclusive services and get on-time assistance from us.
Did you shift to a new apartment in Dubai? Then, you must look for an expert for the home decoration project. Hire our experts and get the best carpentry work for the home.
Home Decoration Carpenter Services, We Provide
Need to customise the wardrobe design? Do you need to install a modern bed frame? Then, consider us to grab high-end carpentry service. Starting from the wooden floor to the pergola, we install everything. Moreover, our experts have sheer knowledge in installing stylish cupboards and cabinets. Book us and get the best home decoration ideas.
Besides, if you find the door locks broken, contact us. We will arrive at your home address and fix it immediately. Our professionals have extensive skills in repairing every wooden item. Thus, you can count on us anytime to fix them.
At Carpenter Dubai, we ensure our clients get the best support for residential carpentry works. So, what are you waiting for? Book an appointment with our competent home decoration carpenter without any downtime.
Here are a few custom carpenter Dubai services you can trust us with:
Gypsum Board Installation
Gypsum boards became an integral part of home decors. Having a gypsum board panel on the walls provides many advantages. It is fire resistant and protects the wall from excess moisture. However, installing these boards might be challenging. This is where Carpenter Dubai comes into the work. We can install different types of gypsum board panels.
Moreover, our professionals will suggest the design that goes with the house setup. We can even repair the gypsum board panels if required. Our home decoration carpenter also provides effective gypsum board maintenance tips. So, reach out to us and get creative gypsum boards for the house.
Pergola Installation
Planning to revamp the house's outdoor look? Then, consider installing a modern wooden pergola. Moreover, our home decoration carpenter can even install an aluminium pergola. We offer best-in-class pergola designs for your custom needs. Besides, we ensure our customers get high-quality pergola elements for their outdoor space.
Our custom carpenter Dubai has installed pergolas in villas and apartments. Thus, you can count on us to add unique pergolas for the home decor. We provide utmost importance to every home renovation project. Besides, pergolas can be damaged due to extreme dust exposure. Hire our professionals to repair them immediately.
Crown Moulding Installation
Home decoration projects will be incomplete without crown moulding. This decorative addition is also great for walls and ceilings. Thus, book our services and get a unique crown moulding design for the house. We have the necessary tools required to install the different crown mouldings.
Here are the type of materials we use to redesign the crown mouldings:
Plaster
Solid wood
Polyurethane
PVC
Fiberboard
Polystyrene
Due to extreme heat, the crown moulding's part can dislodge. Did you notice any crack in the existing crown moulding? Fix it by hiring our custom carpenter Dubai. We have the skill to repair the broken crown mouldings. Furthermore, our professionals will check its condition and install new ones if required.
Why Should You Hire Our Home Decoration Carpenter Experts?
Carpenter Dubai is a reputed home decoration carpenter Dubai company. We have teamed up with the vetted professionals. Our experts have undergone several training modules to offer the best carpentry works. We have a customer service team who are always ready to assist you. More than 100+ clients have praised our workmanship and booked our services.
Moreover, we use advanced tools to perform carpentry works. Our custom carpenter Dubai services are quick and efficient. The booking process is also simple and precise. You need to follow 3 simple steps to hire the top-ranked carpenters in Dubai. Besides, we offer doorstep facilities for our customers in Dubai. So, join us and decorate the house with our assistance.
Best Home Decoration Carpenter Dubai is a Call Away!
Do you want to know more about home carpentry services? Then, feel free to contact our experienced customer support team. We will clear your service-related queries. Moreover, we will help you choose the service packages that best suit your needs. So, request a quote or book our top-notch services now!