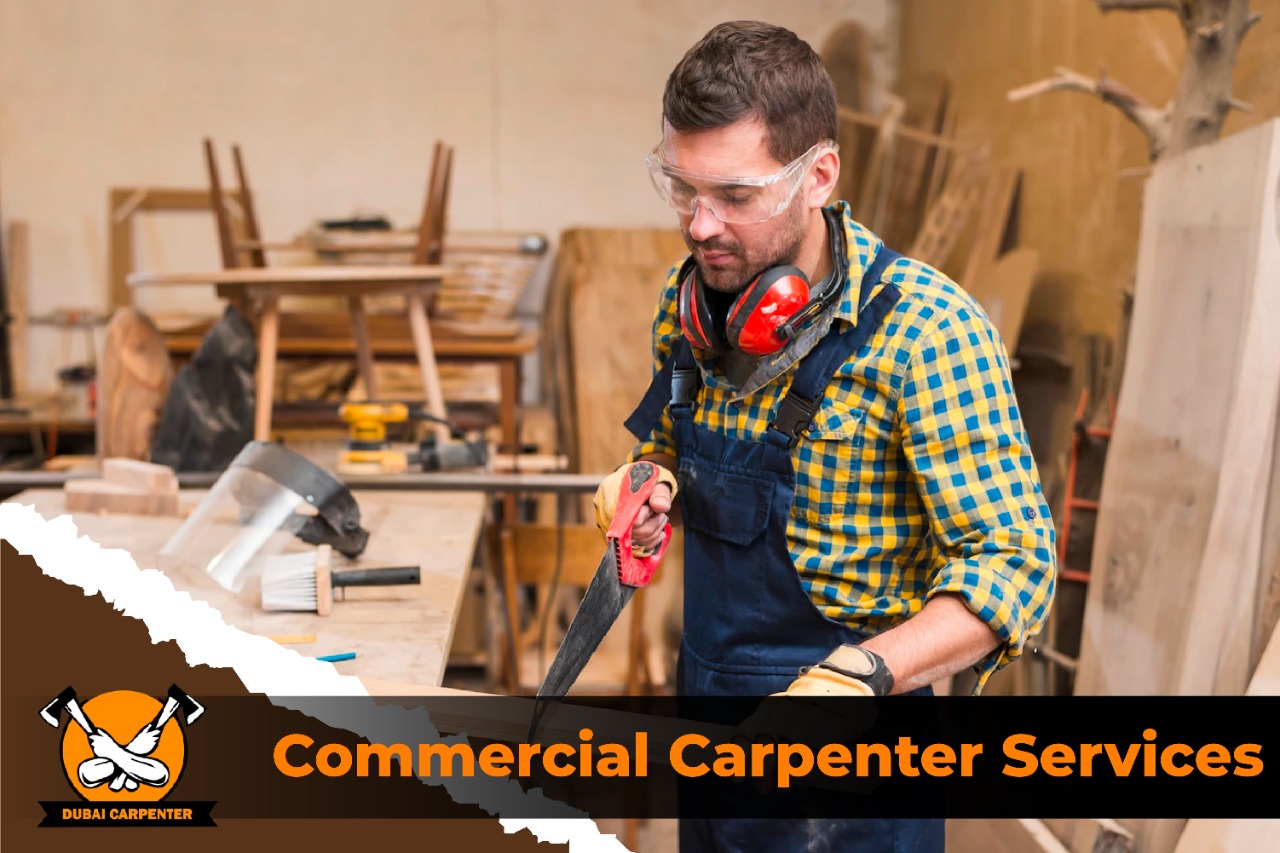 You will need a professional to install, construct or repair the wooden structures. Don't watch any D-I-Y video tutorials to redesign the furniture or cabinets. Instead, connect with Carpenter Dubai to book professional assistance.
We are a leading commercial carpenter services provider in Dubai. Our professionals strive to offer the best carpentry work in the commercial sector. Starting from doors, chairs, cabinets, and tables, our certified carpenter in Dubai can install everything. Moreover, we have teamed up with experts who have extensive knowledge in carpentry.
Our experts have performed carpentry works for renowned companies. Moreover, we have the necessary tools required to design or construct wooden items. Our commercial carpenters have specialisation in different areas such as framing or roofing.
Thus, if you need a carpenter for the office renovation project, call us. We will be there to provide top-notch carpentry services in Dubai.
Commercial Carpenter Services, We Offer
Need to repair the door hinges? Looking for a cheap commercial carpenter in Dubai? Connect with Carpenter Dubai to get the best on-site assistance. We can fix the office chair's broken handles in minutes. Moreover, our experts can help you to maintain the installed items. Hire Carpenter in Dubai for a stylish outlook.
If you are a business owner and need an expert in interior construction, contact us. Our commercial carpenters are available round the clock to assist you. Visit our site, and book our exclusive carpenter services in Dubai. And, mention what you want to install on the new office. Based on that, we will connect you with the experts fit for the job.
Here are a few commercial carpenter services which we offer:
Gypsum Board Installation
Do you want to install gypsum boards in the office? Hire our commercial carpenter services experts. We can install different types of gypsum board panels. Moreover, our experts will choose a suitable design for the office setup. We can even repair the Gypsum partitions if requested. So, join us and book an appointment with a top-ranked carpenter in Dubai.
Cabinet Installation
At Carpenter Dubai, we can install office cabinets efficiently. Unable to decide which design will be perfect for the commercial place? There is nothing to fret over when the best carpenter services in Dubai are here to help. Our cheap commercial carpenter in Dubai can complete cabinet installation works in minutes. We have the calibre to install custom, semi-custom and stock cabinets.
Our professionals can redesign the base cabinets. Besides, we have immense expertise in installing the wall cabinets. Do you want new cabinet drawers in the office? Book our services and connect with a veteran carpenter in Dubai. We provide utmost attention to all your cabinet installation needs.
Moreover, our commercial carpenter services experts can install these file cabinets in offices:
Vertical file cabinets
Lateral file cabinets
Pedestal file cabinets
Rolling file cabinets
Storage cabinets
Window and Door Installation
Need to repair the existing doors? Do you need a new office door? Let us know. Our commercial carpenter services expert will help you with that. Besides, we are acquainted with the office door installation works. Our cheap commercial carpenter in Dubai can install different types of doors and windows.
Unable to decide on doors or window design? Don't worry! Carpenter Dubai got your back. We will help you to choose a design that will suit the office's look. Moreover, if you can't choose the material you want for the door/window, leave that for us.
Our commercial carpenter services expert will choose the right material for you. Our professionals can install or repair these office doors without any downtime:
Glass doors
Wooden doors
Metal doors
Semi-glass doors
Additionally, our carpenter services in Dubai experts can install sliding windows. We have specialisation in installing these commercial office windows:
Fixed windows
Double-hung windows
Metal windows
Sash windows
Pivoted windows
Louvered windows
Why Should You Hire Our Commercial Carpenter Services Experts?
Carpenter Dubai is a reputed commercial carpenter service provider. We are committed to offering best-in-class carpenter services across Dubai. We use advanced techniques to complete the installation works in a stipulated time. Moreover, our professionals have undergone several training models to offer hassle-free services.
We have deployed a customer service team who are always ready to help. More than 100+ customers have hired our vetted commercial carpenter in Dubai. Besides, we have also kept the booking procedure simple and easy to understand. You need to follow 3 simple steps to hire our experienced professionals. So, what are you waiting for? Spend a few AED and get the best experts for the carpentry project from us.
Reliable Carpenter Services Experts are a Call Away!
Need more information about our cheap commercial carpenter in Dubai? Do you need to know about the service packages and deals? Feel free to visit our website to clarify your service-related doubts. There is no need to stand in the long queues, request a quote and hire our experts now.