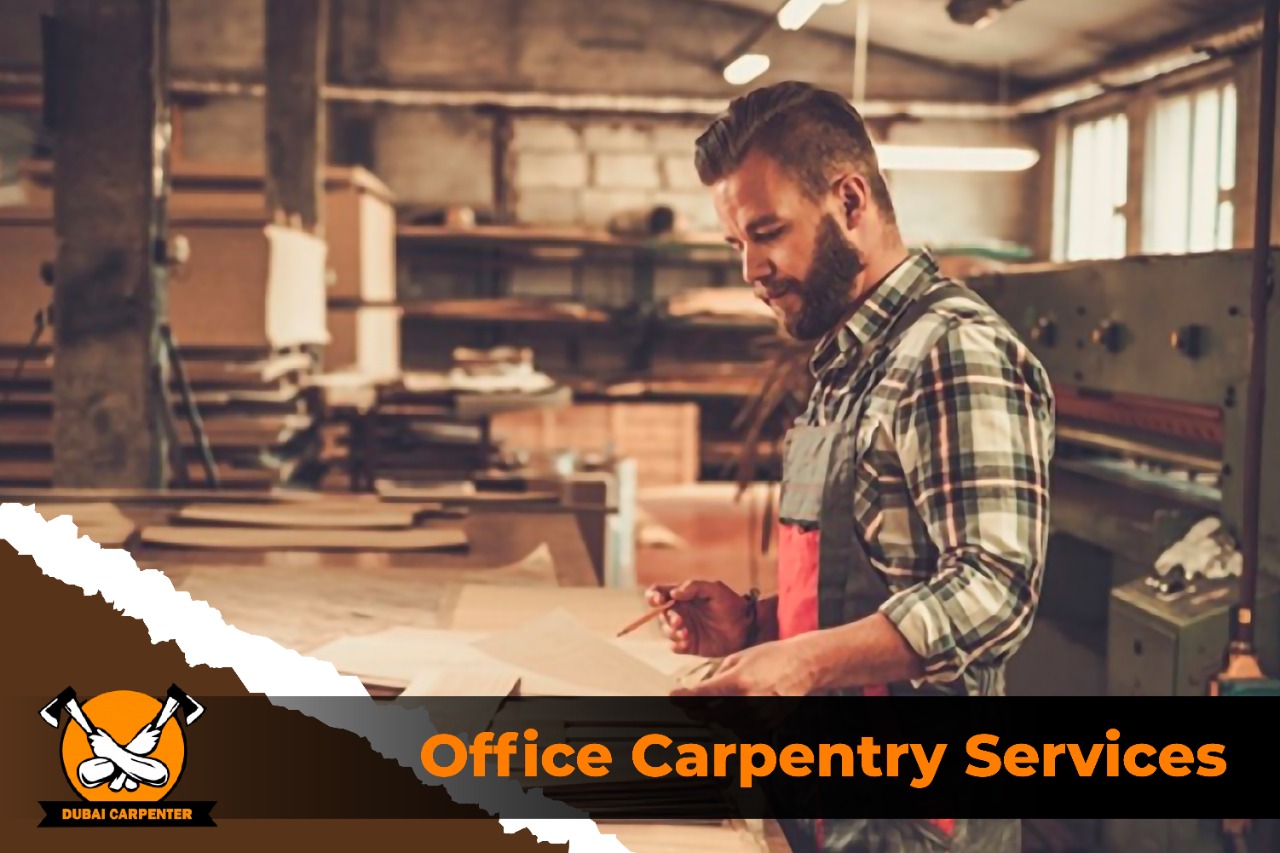 If you are renovating the office, then you will need a professional to do the carpentry work. Installing or repairing wooden furniture seems easier with an expert's help. Thus, connect with Carpenter Dubai to redesign the office chairs or tables. We are an eminent office carpentry service provider who strives for excellence.
Moreover, we have teamed up with experienced and skilled carpenters. Whether you need to repair a window panel or door – our professionals are the best. From construction to remodelling to maintenance, we can handle everything.
Besides, our carpentry services Dubai experts have immense expertise in carpentry works. We have the calibre to install wooden frames without damaging the office walls. Our certified carpenters have worked for renowned offices in the UAE. So, schedule an appointment with us and get premium quality office carpentry services.
Office Carpentry Services, We Offer
Need to install new desks for the office renovation project? Consider contacting our carpentry services Dubai expert to get the best assistance. Moreover, we can repair the broken door locks and chair handles within a stipulated time.
Our professionals can also install wood beams in the office ceiling. So, what are you waiting for? Hire our experts to revamp the office decors.
Do you need a professional carpenter to install crown molding? Then, contact our professional carpenter Dubai for office work. We ensure our customers get top-notch carpenter services at a reasonable price. Visit us and mention the type of carpentry services you are looking for. Based on that, we will connect you with the experts who can perform the carpentry work.
We have specialisation in offering these office carpentry services Dubai:
Cabinet Installation
Did you check many cabinet designs but are still unable to choose the right one? There is nothing to worry about when Carpenter Dubai is there to assist. Our professionals have the skills to design modern and traditional cabinet designs. Moreover, we will choose a design that will be suitable for every space.
Our carpentry services Dubai expert has been installing different file cabinets for years.
Whether you want a vertical or lateral cabinet, we are always there to help. Besides, we have sheer knowledge in installing stock cabinets in the office. So, join us and get the right cabinet for the workspace.
Carpenter Dubai can help you to redesign or repair the following cabinet parts:
Wall cabinets
Cabinet doors
Base cabinets
Cabinets knobs
Cabinet drawers
Shelf Installation
Did you see a unique shelf design while browsing the internet? Contact us, we will help you redesign the office shelves with that design. Moreover, our carpenters have extensive skills in repairing wooden shelves or racks.
We at Carpenter Dubai know that shelves are essential office items. Thus, our experts provide a creative look owing to their carpentry skills.
Moreover, we are well acquainted with installing the following office shelves:
Built-in shelves
Fixed bracket shelves
Adjustable shelves
Floating shelves
Corner shelves
Free standing shelves
Wall shelves
Window and Door Installation
Well-designed windows and doors will add value to the office. However, the door or window hinge or panel can become damaged over time. Moreover, the door or window colour might fade due to the dust exposure in Dubai. This is where Carpenter Dubai comes into the work.
We can fix the broken office door or cracked double-pane windows easily. Besides, we will choose the designs that will suit the office's overall look.
Unable to decide which door or window material to choose? Book our carpentry services Dubai and rest assured. Carpenter Dubai is largely known for installing these office windows:
Fixed windows
Sash windows
Casement windows
Sliding windows
Pivoted windows
Metal windows
Glass windows and double-hung windows
Additionally, our professionals can install and maintain wood doors. Want to redesign the existing metal doors? Then, contact us and get the best on-site assistance for the office's carpentry works. 
Here are a few more doors which we can install in the new offices:
Glass doors
Fibreglass doors
Aluminium doors
Steel doors
Sliding doors
Why Should You Hire Our Office Carpentry Services Experts?
Carpenter Dubai is the most recommended platform for office carpentry works. Moreover, our professions are hard to compete with regarding reliability. More than 100+ customers have praised our craftsmanship and booked our exclusive services.
We have also kept the booking process precise and easy to access. You must follow three simple steps to get a professional carpenter Dubai for office work. Besides, our professionals offer doorstep facilities in Dubai.
We use advanced methods to complete carpentry projects with a quick turnaround time. So, engage with us and get competent experts for office remodelling.
Best Office Carpentry Service Experts are a Call Away!
Need to know the type of carpentry works we deal with? Do you have any service-related quotes? Feel free to contact us to clarify the carpentry service concerns.
Our customer support team will also help you choose the right service package. So, request a quote or book our impeccable services now!