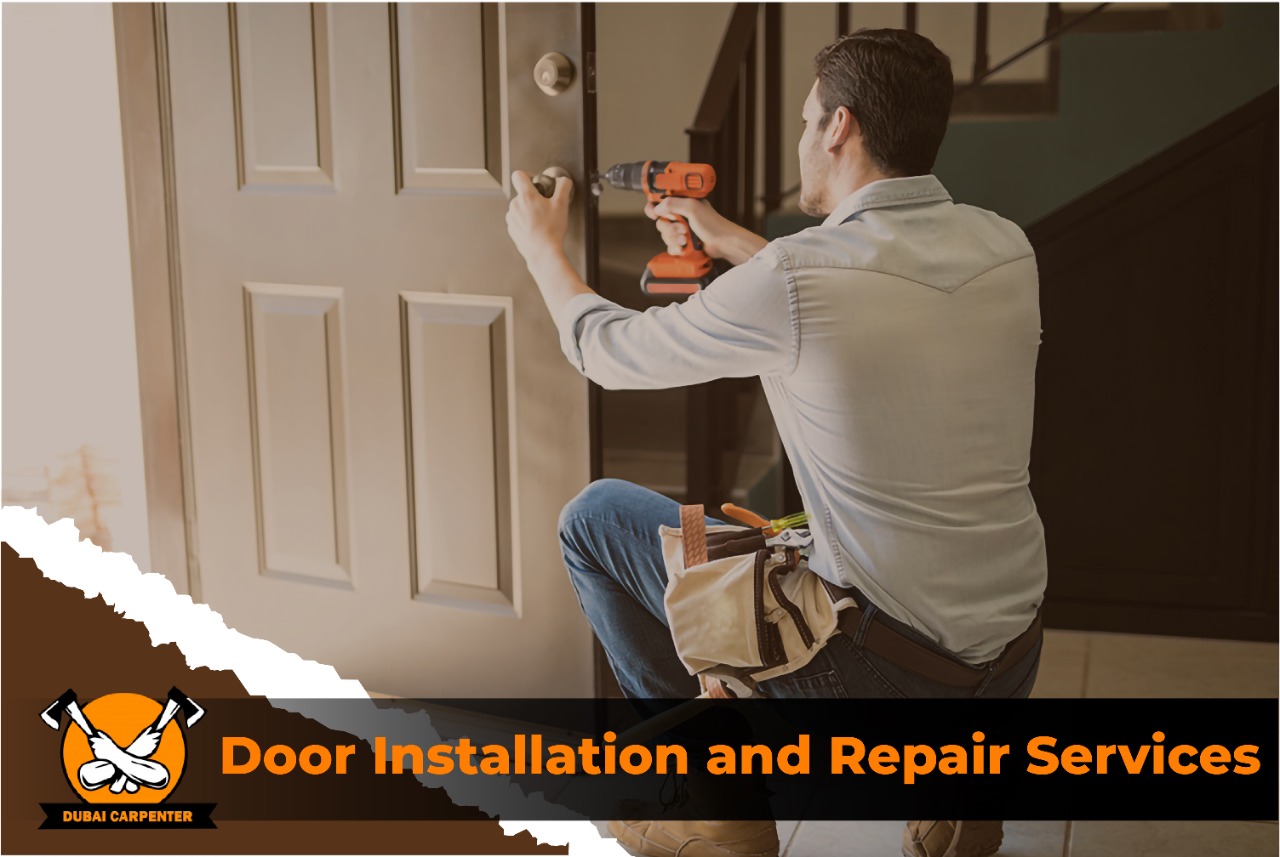 Having a suitable and well-functioning door is quite important for your home. So, you would want to install a perfect one and maintain it well. Like other parts of your home, the doors might occasionally face a wide range of problems, including loose hinges and broken locks. You must look for professional help in such cases to get a solution.
We offer you reliable door installations and repair as a part of our services at Carpenter Dubai. You can get a door hinges repair carpenter and other promising services from us. So, try our door installation and repair services in Dubai to fix your door problems. We can also install a new door for you within a very short time.
Door Installation and Repair Services We Provide
We can fix all kinds of issues with your doors as well as install a new one within a fairly short time and with great results. Our door repairs and installations last long, and you might not need another repair soon.
Here are some of the services that you can book with us:
All Types of Door Installations
Do you want a new door for your room or home? Then, we have various types of designs and materials to choose from. With us, you can also choose from a wide range of colours. Moreover, we can install all types of doors that are popular out there. Our custom door maker and repair services Dubai can help you get the following types of doors:
Pocket doors
Sliding glass doors
Closet doors
Storm doors
Screen doors
French doors
Sliding barn doors
Interior and exterior doors
We can also install any other types of doors you want for your home.
Door Repair Services
You need not necessarily install a new door if the older one has problems. Instead, a reliable repair can help you lengthen the existing door's life. Our door hinges repair carpenter can help you with that in various situations.
You can book our custom doors makers and repairs services for the following door problems:
Broken Door Locks
You must immediately replace or fix your door's lock if it is damaged. We can do that for you within the shortest possible time. All you need to do is book our door installation and repair services Dubai. Our carpenter will inspect your door lock and repair or replace it efficiently.
Damaged Door Jamb
The jamb is a crucial part of your door that might get damaged under various circumstances. You need not worry about such situations while we are at your assistance. Reach out to us anytime you want your damaged door jambs repaired quickly. We will handle the task efficiently and get it done as soon as possible.
Rotting Door Wood
Doors usually rot due to fungi or mould attack, and you must act quickly to repair the wooden structures. Getting a timely repair can help you fix a rotting door. That way, you would not have to get it replaced. Our door maker and repairs services Dubai includes an effective solution for rotting doors. We can apply good-quality wood hardener and filler to fix this problem effectively. 
Air Leaks in Doors
Air leaks are quite common and you might face such problems with doors. They are usually quite easy to fix and we can deal with them very effectively. With us, you can expect a long-term solution to this issue.
Creaking Doors
Has your door started creaking whenever you open or close it? Reach out to our door hinges repair carpenter to get an appropriate solution. We can replace the hinges if required to fix this problem over the long term. Apart from that, we can take any other steps necessary to fix your creaking door.
Why Choose Us?
Carpenter Dubai can offer you a wide range of top-notch carpentry services. With us, you can have pretty much all the woodworks at your home fixed and modified. Moreover, we can also help you create a wide range of woodworks for your home.
You can book our services easily by dialing us and sharing your requirements. Our carpenters are skilled and experienced enough for any tasks you assign to them. They can always offer you a quick and efficient service.
Our carpentry services are designed in a flexible way to take care of your needs. Also, you can get them at very reasonable prices.
Book a Door Installation and Repair Now
With Carpenter Dubai, you need not wait any further to repair your door or install a new one. Our door maker and repair services Dubai are only a phone call away. Call us and book a service, or share your queries regarding our services with our executives. We are here to make your life easier.