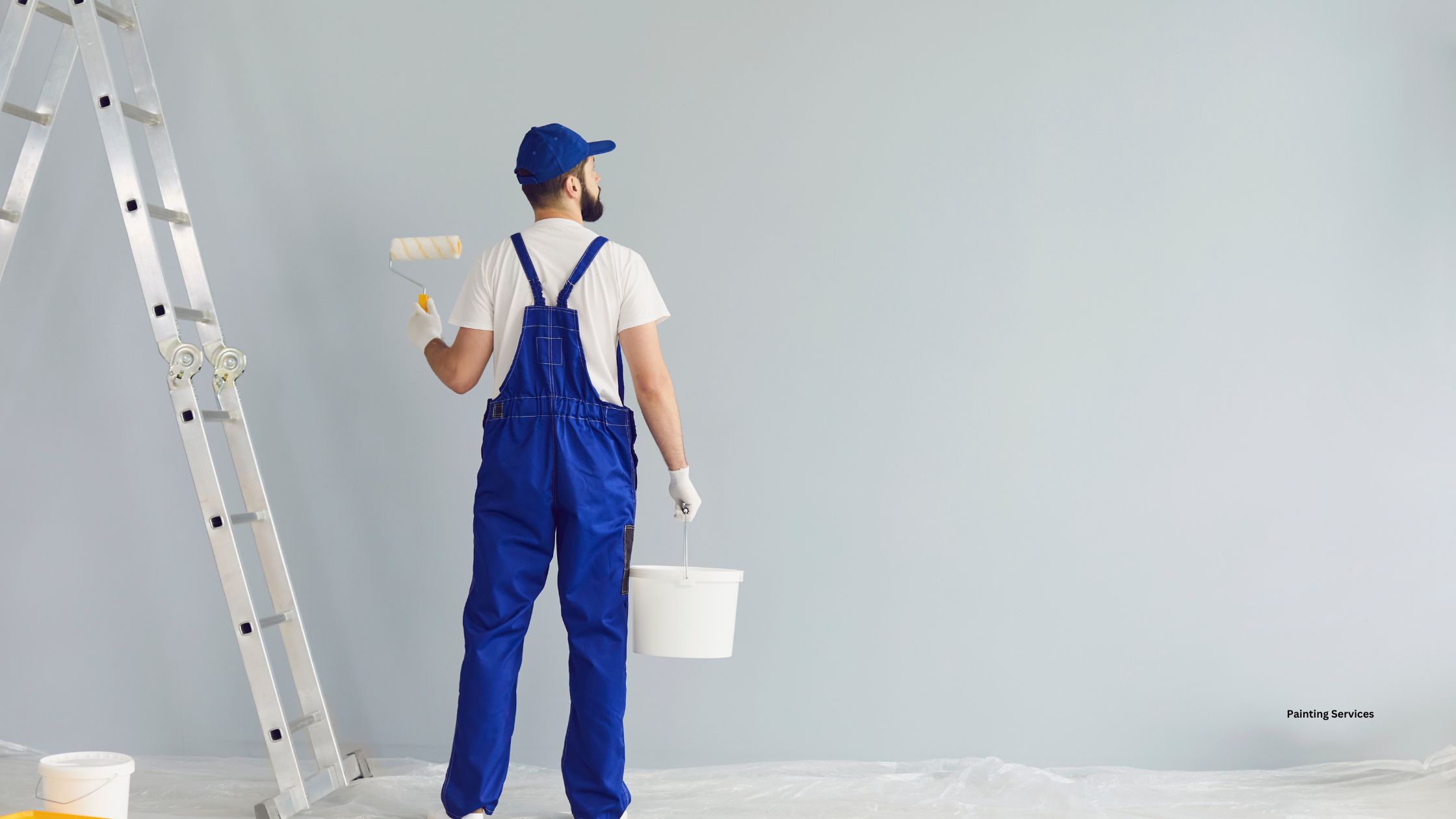 No need to look elsewhere – we're here to provide you with trustworthy and reliable painting services in Dubai. We've got your painting needs covered and our goal is to ensure your satisfaction with the outcomes. We take pride in being recognized as the top professional in the field of painting services in Dubai.
Are you thinking of getting your walls painted to give your home a quick and nice change? You can find expert house painters in Dubai, United Arab Emirates like us. Our professional painter are really good at what they do, and they've been checked and rated highly (4 stars and above) by customers. 
We offer painting services all over Dubai, for all kinds of buildings. It doesn't matter if it's a house, an office, or even a restaurant. We paint in many places around Dubai, like Spring, Jumeirah Village, Al Barsha, Arabian Ranches, Mira Oasis, Al Mamzar, Palm Jumeirah, Jumeirah Islands, Meydan, and lots more. So, if you're looking to change up your place with a fresh coat of paint, our team of skilled painters is here to help make your space look even better.
Imagine you're searching for the finest painting services in Dubai. Well, we can assure you that we have the best painters who always make sure to keep the quality really high. If you have any questions, don't hesitate to reach out to us. We're here for you all day and night, and you can call us at +971528955713.
Best Painting Services offered by Dubai Carpenter
You will find the best painting services in Dubai from us, be it help in color selection or repairing, and many more services are offer by us. And here are some of the popular services like:
Interior painting:
Interior painting services involve professionals who paint the inside of buildings like homes, offices, or other spaces. They can transform the look and feel of a room by applying paint to walls, ceilings, trim, and other surfaces. Here's some information about interior painting services.
Painters begin by getting the place ready. This could mean shifting furniture around, putting covers on surfaces, and making sure floors are safe from paint spills or harm. They might also use something called primer on surfaces. Primer helps the paint stick well and gives a smooth finish.
Once the paint dries up, they'll take off the covers, put the furniture back where it belongs, and fix up anything that needs a little extra touch. This careful work makes everything look neat and well-done, giving the place a nice, finished appearance.
Exterior painting:
Exterior painting services involve professionals who paint the outside of buildings, such as houses, offices, and other structures. Here's an overview of exterior painting services
When painters work on the outside of a building, they begin by getting the surfaces ready. This can mean cleaning them, smoothing them with sandpaper, and fixing any cracks or breaks. Then, they put something called primer on the surfaces. Primer helps the paint stick better and last longer. After that, the painters carefully put on layers of paint using brushes, rollers, or sprayers. They make sure it looks nice and even. This process gives the building a fresh and attractive look that lasts a long time.
Wallpaper removing and Installation
Wallpaper removing services are provided by professionals who specialize in removing wallpaper from walls, ceilings, and other surfaces.
The way they remove wallpaper depends on what kind of wallpaper it is. They might do things like using steam, soaking, or special liquids that help loosen the sticky stuff that holds the wallpaper. When they take off the wallpaper, they make sure the surface is nice and clean. This is important so that the surface is ready if you want to do more things to it, like painting or putting up new wallpaper. Before they start, they look at the wallpaper, its condition, and where it's stuck to decide the best way to take it off. This careful work helps keep your walls safe and ready for the next steps.
Commercial painting:
Commercial painting service in Dubai are all about getting businesses' spaces painted professionally. These spaces can include places like offices, shops, warehouses, and other places where people do business. The painters make sure these places look really nice by putting on a fresh coat of paint. This helps businesses create a good impression and a nice environment for their customers and employees. So, whether it's an office, a store, or any other kind of business space, commercial painting services in Dubai make sure they look great and inviting.
The experts take some time to look at how big the commercial place is, how it's set up, and if there's anything that needs fixing before they start painting. This helps them make a plan for how to do the painting. The commercial painters also try their best to finish the painting job within a certain time. This is so that the business can keep running smoothly without too much interruption. It's important to them to get the work done without causing too much hassle for the business.
Commercial painting services are important because they make businesses look nice and friendly. Taking off wallpaper can be hard and needs special care. Having expert do it make sure everything goes well and your wall don't get hurt. It's really important to talk about what you want so that outdoor painting goes well. So, whether it's making a business place look awesome or carefully taking off wallpaper, hiring experts is the clever way to do things correctly. 
Tips for finding the best painters in Dubai
It is not everyone's cup of tea to provide skilled and experienced painting services, that's why our painting services in Dubai are famous because we provide all painting services in Dubai like villa painting services, apartment painting services and many more. But you should keep all these important thing in your mind about what should be kept in mind for getting the painting done.
Experience and Expertise:
Take a good look at the pictures of the projects they've finished in the past. Look for their portfolio to see these pictures. You can also ask people who have hired them before about how well they did their work. This will help you understand if they're good at what they do. And don't forget to make sure they've done the kind of painting you want. For example, if you need your house or shop painted, or if you have a special design in mind, check if they've done similar work before.
Reputation and reviews:
When you're looking for painters, take some time to look at what people are saying about them. You can find reviews and ratings on websites like Google, Yelp, and social media. It's also a good idea to ask the people you know, like your friends, family, or neighbors, if they've had good experiences with any painters. You might also want to find out if the painters have a good reputation in your community. Sometimes, they might even have won awards for their work. Checking all of this information will give you a better idea if they're truly skill at painting.
Estimates and Contracts:
When you're talking to the painters about the job, make sure to ask for a paper with all the details written down. This paper should say what exactly they're going to do, what things they'll use for painting, how much the workers' work will cost, and if there are any extra charges you need to know about. Also, don't forget to ask them when they'll start working and when they'll finish. To make everything clear and fair, it's a good plan to have a special paper called a contract. This contract will have all the important things written in it, and it'll help both you and the painters understand what's going to happen. This way, everyone knows what's expect and what they're supposed to do.
Quality of materials:
Have a chat with the painters about the kinds and names of paints they're planning to use. Make sure these paints are a good match for the work you want to be done. Also, ask them how they plan to clean and get the surfaces ready before they start painting. It's a good idea to know if they'll use a special layer called primer and do other things to prepare the surfaces.
Another thing to ask about is if they give any special promise about how good and strong their work will be. This promise is called a warranty. It's like an assurance that their painting job will last well and won't have problems. When you ask about these things, you'll have a better idea of how the painters plan to do their work and how good it will turn out.
Licensing and Insurance:
Make sure the painters have the right permission to work as painters where you live. Also, it's important that they have special insurance in case something goes wrong during the painting job. This insurance can help if there's damage or accidents. Additionally, it's a good idea to see if they also have insurance for their workers. This can help you avoid any problems in case of accidents involving the workers while they're working for you.
Environmental Considerations:
When you talk to the painters, you can ask them if they use special paints called "low VOC." These paints are nice because they don't harm the environment a lot. You can also find out from them what they do with extra paint, brushes, and other stuff once they finish their work. It's good to know how they keep things clean and safe. This helps make sure that their work is good not just for your place, but also for the Earth.
For good painting service in Dubai, you have to keep these thing in mind, because of this, we will give you good painting service, we will give you good painter, but it depend on what kind of painting you want to get done and where you want to get it done.
Home painting services in Dubai
Home painting services in Dubai revolve around the expertise of professional painters who enhance the appearance of houses and living spaces. Their skills bring a fresh and vibrant feel through the use of colorful paints. These skilled painters attend to various parts, including walls, ceilings, and even the intricate details like edges.
Moreover, they offer guidance in selecting the perfect colors, prepare surfaces meticulously, and apply the paint with utmost care, resulting in a remarkable transformation for the house. If you're seeking to elevate the appeal of your home, these services stand as an excellent choice. With their mastery in painting, they possess the ability to create a stunning look for houses using the magic of beautiful paint colors.
Office painting services in Dubai
Office painting services in Dubai provide a specialized form of expert assistance for office spaces and areas where people carry out their work. These services have a primary goal of enhancing the appearance of offices through the expertise of skilled painters.
These painters are proficient in tending to various aspects of an office's interior. This includes proficiently managing walls, ceilings, and other important components. Furthermore, their involvement extends to aiding in the selection of aesthetically pleasing colors that align with the desired office ambiance.
Apartment painting Services in Dubai
Apartment painting services in Dubai offer a specialized and professional approach to painting, aimed at enhancing the visual appeal of residential apartments. These services are tailored to bring out the best in apartment spaces through the expertise of skilled painters who understand the nuances of apartment painting.
Villa painting services in Dubai
Villa painting services in Dubai are specialize and professional service that focus on enhancing the appearance of residential villas through expert painting. These service are tailored to bring out the best in villa spaces, guided by skill painter who have a deep understanding of villa painting technique.
Villa painting services encompass a range of tasks aimed at rejuvenating the look of villas. Experienced painters pay close attention to various surfaces within the villa, including walls, ceilings, and other visible areas. They collaborate with you to select the most suitable colors, meticulously prepare surfaces, and then apply paint with precision to achieve a refreshed and inviting living environment.
Why choose us?
When it comes to our painting services in Dubai, you might be wondering about the reasons to choose us. Allow me to explain what makes us stand out. One of the remarkable aspects is that you don't have to physically visit a store to engage with us. Our dedicated painters will come directly to your location, understanding your preferences. They'll provide expert guidance and recommend the best areas to showcase the paint's brilliance. And here's the added convenience – a major portion of the process happens online, making things incredibly smooth. Trust is a cornerstone for us, and we're here to transform your aspirations for a beautifully painted space into reality.
Why go for professional painting services in Dubai UAE
Professional painters are experts who do a great job. They have the right tools and skills to do their job well. They do their work every day and are really good at it. 
People know Painting Services Dubai very well because we're famous for making offices look great with paint. Our team of experts is really good at what they do, and that's what makes us special. We're known for doing excellent work that you can trust. We feel really happy about what we do, and more than 100 customers have said they love our work. They think we're really good at making things look fantastic, and that's what our services are all about.
Painters who specialize in mechanical services know how important it is to use the right tools and equipment for activities like sanding, priming, painting, and finishing. By following established rules and standards, they make sure the work is done well and in a way that works best. This helps them complete the job efficiently and successfully.
Accurate measurements and calculations are super important when handling tricky painting jobs. When painters collect dependable information, they can check if their work matches the original plan and makes the client happy. This way, everyone is satisfied and things go smoothly.
Having good technical know-how is really important for painters in Dubai to do a great job. Knowing about different painting techniques, the best materials to use, and what makes for top-notch quality helps painters make smart choices. This way, they can give you fantastic results that you'll love.
Our Carpenter Dubai are known for being the best because we are great at both exterior and interior painting. Whether we're painting the outside or inside of your property, we do a really good job. Our painter are really skill and can understand what you want with just a little bit of information. They can give you the best solutions and even come up with creative ideas because they know a lot about painting.