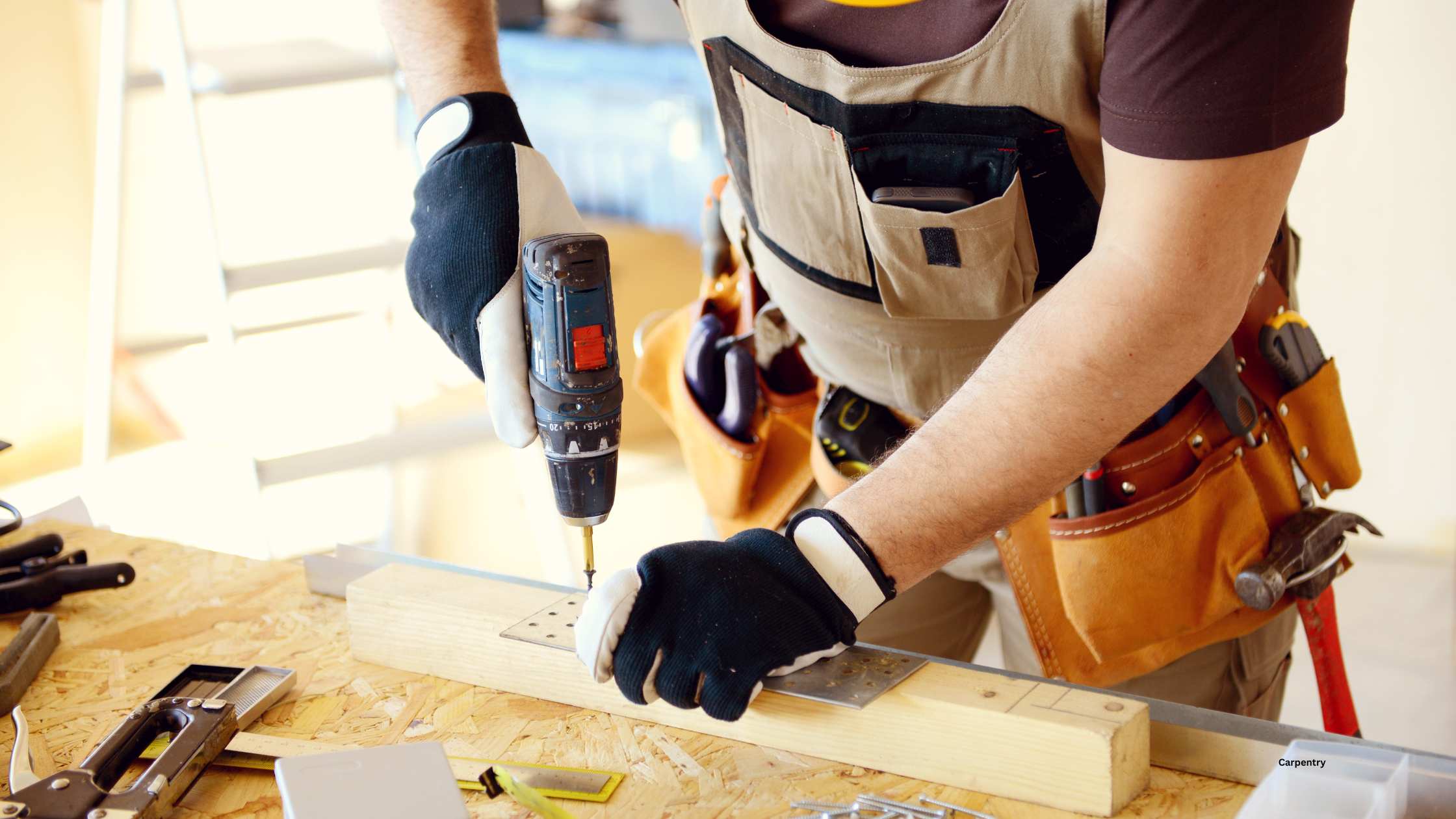 Introduction
Jumeirah Village Triangle is a vibrant community where homes aren't just living spaces, but also expressions of your individuality. If you are looking for ways to enhance the aesthetics and functionality of your home, getting your hands on carpentry services can open up a whole new world of possibilities. Let's explore the significance of carpentry services and how they can rejuvenate your living spaces. The carpenters in Jumeirah Village Triangle will transform your home into a stylish and functional haven, whether you're looking for custom furniture, stunning woodwork, or efficient storage solutions.
The Artistry of Custom Furniture
In Jumeirah Village Triangle, the carpentry businesses take great delight in their artistry and craftsmanship. They have a group of expert carpenters that are competent in working with different materials, such as wood, metal, and glass, to produce custom furniture pieces that flawlessly match the design and layout of your home. These skilled craftsmen are capable of bringing your visions to life, whether you want a modern, minimalistic appearance or a traditional, elaborate design.
Custom furniture enables you to inject your personality into every room of your house, from gorgeous dining tables that become the center of your dining area to marvelous bookshelves that display your priceless book collection. Each item is carefully create to the greatest standards for durability and elegance by skilled carpenters, who pay rigorous attention to detail.
The adaptability of customized furniture is one of its main benefits. Carpenters in Jumeirah Village Triangle can make furniture items that exactly match your available area. These skilled workers can design and construct furniture that makes the most of your space and improves utility, whether you have a large estate or a modest studio apartment. Custom-made shelves, cabinets, and wardrobes provide plenty of storage options while easily blending into your overall design concept.
Custom furniture provides exclusivity in addition to aesthetic appeal and practical advantages. You can be confident that your home decor is one-of-a-kind and distinctive when you spend on customized items. Your taste, sense of style, and dedication to detail are reflected in it as a statement piece.
It's crucial to choose a trustworthy carpentry firm with a track record of producing great craftsmanship if you want to appreciate the creativity of customized woodwork in Jumeirah Village Triangle. To make sure the carpenters can realize your concept, look for references, examine their portfolio, and have in-depth conversations.
Enhancing Your Interiors with Woodwork
Your rooms could be given a special touch of character, warmth, and elegance by using woodwork. Professional carpenter in Jumeirah Village Triangle can assist you in realizing your idea, whether it be to build a comfortable living room, a peaceful bedroom, a functional kitchen, or a warm doorway. They are well-versed in the properties of various wood varieties as well as how they can draw out their natural splendor.
Whether you want a traditional, rustic, or modern style, skilled carpenters can accommodate a broad range of design sensibilities. They may build sleek, minimalist wooden fixtures that fit in perfectly with modern decor or intricately carved embellishments that give your living areas a sense of luxury. There are countless option, and skilled carpenter are skilled at realizing your distinct taste and style.
Another component of woodwork that may significantly improve your interiors is custom cabinets. In addition to serving as useful storage units, personalized cabinets made by woodworking services in Jumeirah Village Triangle may also serve as decorative accents for your house. These cabinets may be customized to your unique requirement and available space, guaranteeing effective organization and upholding a consistent design style.
Every element of the woodwork is carefully constructed, from the type of wood used and how it is finished to the accuracy of the cuts and joinery. This degree of skill makes sure the finished product surpasses your expectations and gives your interiors a touch of refinement and luxury.
Maximizing Space with Efficient Storage Solutions
Keeping our homes organized and maximizing space has become increasingly important in today's fast-paced world. Carpenter Dubai that specialize in designing effective storage solution to match your individual demand can be found in Jumeirah Village Triangle. Customize closet, cabinetry, built-in cupboard, and other alternatives are all available through these service, all of which are intended to maximize space use and improve the overall appearance of your home. 
Professional carpenters in Jumeirah Village Triangle are aware that each property is different and has different storage requirements. These experts can customize storage solutions to meet your unique needs, whether you live in a tiny apartment with little space or a large estate with plenty of room. To design and manufacture storage units that effortlessly complement your house's overall appearance, they consider your house, they take into account the space you have available, the products you need to keep, and your desired style.
One of the most well-liked choices for storage provide by carpentry service is customize wardrobe. These wardrobe are made to make the most of every square inch of space and provide plenty of place for your clothes, accessories, and personal item. Depending on your needs and tastes, skilled carpenters may design closets with a range of features, including shelves, drawers, hanging rods, and shoe racks.
Another great storage option that may assist you in organizing your living areas is shelving. Carpenters in Jumeirah Village Triangle are able to construct shelving systems that are both practical and aesthetically attractive, whether you need them in your living room to exhibit beautiful objects or in your home office to manage books and papers.
These storage options not only make your house more functional but also more aesthetically pleasing. The design, component, and finishes of the cabinetry are chosen with care by skill carpenter to complement your taste and preference. Woodworking services can construct storage solutions that not only give usefulness but also add to the overall aesthetic of your living spaces, whether you like a modern, minimalist style or a more traditional, ornate design.
Restoring and Repairing Woodwork
Wear and tear over time may compromise the aesthetics and usefulness of your woodwork. However, you may restore and repair your priceless wooden items with the help of professional carpenters in the Jumeirah Village Triangle. Whether it's a damaged chair with emotional significance or an antique table that has lost its shine, skilled carpenters in Jumeirah Village Triangle are aware of the worth of your wooden items. They have the knowledge needed to evaluate the damage, create a repair strategy, and carry it out precisely.
Professional carpenters can fix broken joints, strengthen weak areas, and restore the furniture to resemble its original appearance if it is a broken chair or stool. They are knowledgeable about where to get the best materials and how to use the correct woodworking methods to create a smooth repair that holds up over time.
Another specialization of carpenters  in Jumeirah Village Triangle is refinishing an old table or cabinet. The previous finish may be remove, any surface flaws can be fixed, and then a fresh finish that highlight the natural beauty of the wood can be applied. They may once more make your worn-out furniture into a gorgeous showpiece by carefully scrubbing, staining, and varnishing it. Antique furniture may be restore by skilled woodworker in Jumeirah Village Triangle while maintaining the originality and structural integrity of the piece. 
Conclusion
Homeowners in Jumeirah Village Triangle have a variety of alternatives for enhancing their living spaces thanks to carpentry services. Carpenters in Dubai enable you to design a house that is both aesthetically pleasing and practical, from bespoke furniture that reflects your own taste to fine woodwork that adds beauty to your interiors. Additionally, you may maximize the use of your areas by decluttering them with effective storage options. Carpenters in Jumeirah Village Triangle are capable of restoring existing woodwork to its former brilliance if it needs repair or restoration. Therefore, the carpentry service in Jumeirah Village Triangle are prepare to exceed your expectation and turn your house into a refuge of elegance and functionality, whether you're wanting to start a home remodeling venture or simply want to add an extra level of artistry to your living areas.